Jennifer Bonn
I recently retired from teaching after forty years. During that time, I have tried to balance my writing, my teaching, and my family life. Retirement is offering me the chance to spend more time with my writing and I could not be more grateful. Let me tell you about my passion for writing.
My years in the classroom have taught me lessons I have used in my writing. One of the things that teaching has taught me is that every­one needs some encouragement, even when life is full of bles­sings. I enjoy providing that encouragement for both my students and my readers. Teaching also taught me the importance of community and relationships. I hope I can help readers find the way to build the community and life they need to be happy.
Writing has always been an activity that gives me peace. I tell people I am usually smiling when I am writing. My specialties are parenting, running, education, and self-help. I self-published a teaching guide called Stay Away from the Girl's Bathroom. (The girl's bathroom at my school was where all the drama happened, so you entered at your own risk.) I write monthly essays for my local media in two maga­zines and our newspaper. I have been published in a variety of magazines from Trail Runner to Atlanta Parents. I have a blog that you can reach at www.jenniferswriting.org, a Pinterest page that is found at https://www.pinterest.com/jenniferbonn, and I can be found at medium.com.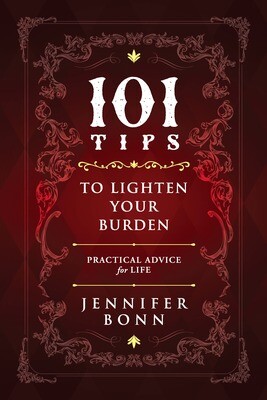 101 Tips To Lighten Your Burden
101 Tips To Lighten Your Burden
Practical Advice For Life